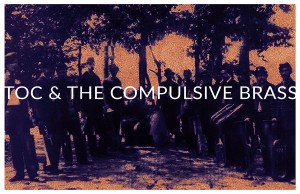 After a try of wildlife documentary ("The Gorilla" – 2009), dance ("You Can Dance If You Want" – 2012), sonic brushing ("Haircut" – 2014), and even the magic of wild acoustic spaces (an acoustic version of the trio, CD release soon…), Toc is now lost in the bayou and the meanders of the French Quarter, preparing with a cheap brass band a project which the music will probably be, in the end, far from New Orleans pattern.
Après s'être essayé au documentaire animalier ("Le Gorille" – 2009), à la danse ("You Can Dance If You Want" – 2012), au brushing sonique (« Haircut » – 2014), et même à la magie des grands espaces acoustiques (un disque très prochainement…), Toc se perd en cette rentrée automnale dans le bayou et les méandres du quartier français, préparant avec un brass band bon marché un projet dont la musique sera probablement, au final, très loin des canons de la Nouvelle Orléans.
Toc & The Compulsive Brass :
Jérémie Ternoy : Fender Rhodes
Ivann Cruz : guitare
Peter Orins : batterie
Christian Pruvost : trompette
Sakina Abdou : saxophones
Jean-Baptiste Rubin : saxophones
Maxime Morel : tuba, trombone
TOC and The Compulsive Brass (FR/CZ), live @ Alternativa 2015, Prague from Petr Vrba on Vimeo.