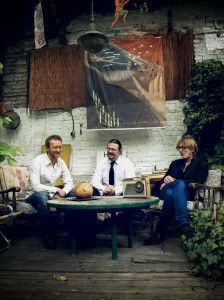 When Toc deals with hair, it's not about splitting them ; the three musicians are closed enough in their quest of the ultimate sonic brushing. Toc seeks, cuts, equalizes, and often uncurls. Its research is slow and progressive, repetitive and insistent, with electrified energy, always built in the moment. Neither permanent nor straight, the music waves, makes loops, gradations and colors.
After a try into wildlife documentary ("Le Gorille" – 2009), then into dance ("You Can Dance If You Want" – 2012), Toc untangles it all with their last LP, Haircut (2014), plays the density and the organic, daring the trance in a joyful and catchy tension.
We find the musicians of Toc in the various collective that appears in the musical scene of Lille (Muzzix, Zoone Libre, …), operating without barriers, from experimentation (La Pieuvre, …) to jazz (Jeremie Ternoy Trio, …) through by Zeuhl (Magma) or garage rock (Sheetah et les Weissmüller…).

Quand Toc s'attaque aux cheveux, pas question de les couper en quatre. D'ailleurs ils sont bien assez de trois dans leur quête du brushing sonique ultime. Toc cherche, coupe, tranche, égalise, et souvent défrise. Sa recherche est lente et progressive, répétitive et lancinante, à l'énergie électrisante, toujours construite dans l'instant. Ni permanente, ni raide, la musique ondule, fait des boucles,  enchaine les dégradés et les couleurs.
Après s'être essayé au documentaire animalier ("Le Gorille" – 2009), puis à la danse ("You Can Dance If You Want" – 2012), Toc démêle tout ça dans leur dernier opus ("Haircut" – 2014), joue la densité et l'organique, osant la transe dans une tension jubilatoire et entrainante.
On retrouve les musiciens de Toc dans les différents collectifs qui sévissent sur la scène lilloise (Muzzix, Zoone Libre, …), opérant sans barrière, de l'expérimentation (La Pieuvre, …) au jazz (Jérémie Ternoy Trio, …) en passant par le Zeuhl (Magma) ou le rock garage (Sheetah et les Weissmüller…).